Say Hello to a Brighter Smile With Teeth Whitening
In-office professional teeth whitening can be completed in either several short appointments or one longer appointment depending on your time budget. Two examples of professional whitening treatment options include high-concentration hydrogen peroxide gels and LED lights.
During your treatment at our clinic in Langford, your dentist will utilize a tooth shade chart to determine the current shade of your teeth (as well as your ideal shade). Then they will use a pumice tool to remove any pre-existing plaque, and apply the chosen whitening agent. It really is that easy!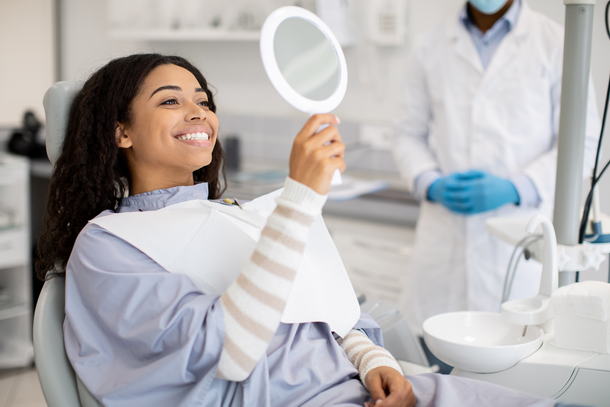 The Benefits of Professional Teeth Whitening
It's scientifically proven that, when meeting people, a bright smile is one of the qualities that's noticed first. Give your self-esteem a boost by making your smile the pearliest it's ever been

Unlike at-home whitening kits that, when used improperly, can damage your enamel over time, professional teeth whitening is as safe as it is effective

With whitening teeth, you can expect a significant improvement to your smile in an hour or less
Background on Professional Teeth Whitening
In the 1900s, hydrogen peroxide became a popular whitening agent. From there, scientists were seeking a way to promote faster healing of gingival soreness that occurred in teens after they got their braces removed; to achieve this, they fabricated custom trays and filled them with Gly-Oxide.
One of the unexpected side effects of the treatment? Teeth brightening! This discovery paved the way for modern teeth whitening, with forms of peroxide continuing to be the primary component of the bulk of whitening agents.