Book Your Appointment with the Top Dentist for Implants in Langford
Do you have one or more teeth that are missing?
If so, there are a number of ways to replace them. If you book your appointment with the top dentist for implants here at Westshore Dental in Langford, we can determine the best solution for your needs.
As an alternative to bridges, partials, or complete dentures, dental implants are used to effectively replace missing roots and support artificial replacement teeth. They're an artificial root made of titanium metal that is inserted into the jawbone to give functionality back to your tooth (or teeth); they act as an anchor that holds a replacement tooth in place. Patients love them for their comfortability and natural appearance.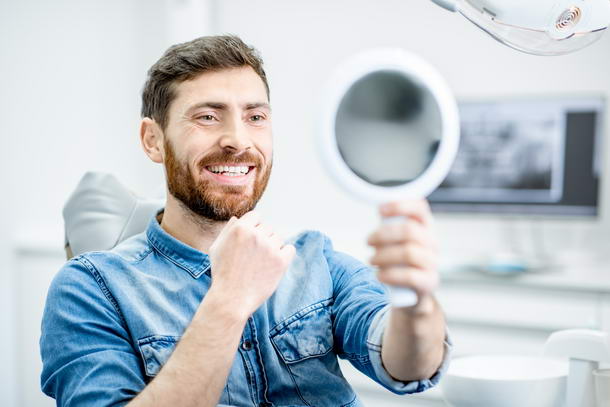 The Benefits of Implants
Where a dental bridge may only last around 10 years, dental implants can last a lifetime with proper upkeep. Because the implant is made from titanium and integrates with the jawbone, it's considered "bio-compatible", meaning that it's completely non-toxic and can't get rejected by the body.
Since implants are semi-permanent, they're considered a great alternative to high-maintenance complete dentures or intensive partial bridges. Like natural teeth, implants need to be kept clean using a toothbrush and floss–but they require zero special treatment. Your dentist will show you the proper cleaning procedure for implants.
When there is one or more missing teeth, your mouth becomes more vulnerable to teeth instability, gum disease, premature face sagging, and even bone loss. Getting implants shortly after tooth loss hugely reduces these risks.

Background on Dental Implants
Dental implants can be traced all the way back to 4000 years ago, when bamboo pegs were used as teeth replacements in China.
However, it was in the 1900s when dental professionals first started successfully experimenting with materials that could mimic human teeth to store both appearance and functionality. In 1952, orthopedic surgeon and research professor Dr. Per-Ingvar Brånemark accidentally laid the foundation for modern-day dental implants when, during a study on bone healing and regeneration, he implanted a piece of titanium onto a test rabbit's femur. When he went to remove it, he found he was unable to because the titanium had fused to the bone.
This birthed the highly-successful implants that are used globally today. If you are in good general health, have healthy gums, and have enough bone in the jaw to hold an implant, dental implants might be right for you. If your jawbone has shrunk or if it has not developed normally, you may be able to have a bone graft to build up the bone. Your dentist for crowns will walk through the best approach for you.
Here's how the process for modern-day implants goes:
Several visits to your dentist may be needed until the process is done
Your dentist will carefully examine your mouth and take x-rays of your head, jaw, and teeth to find out if dental implants are right for you
During the first stage of surgery, your dentist will put a dental implant into your jawbone beneath the gum tissue. The gum tissue is then stitched back into place. As the tissue heals, the implant will bond with the bone and attach to the gum. It can take several months to heal
During the second stage of surgery and once the tissue is healed, your dentist will attach an abutment to the implant. An abutment is a post that connects the replacement tooth to the implant. In some cases, the first and second stages of implant surgery may be done in one single stage
An artificial replacement tooth is made and your dentist attaches it to the abutment. It may take several appointments to properly fit the replacement tooth to the abutment.
When replacing several teeth or all of your teeth, a fixed bridge is anchored to your dental implants. A bridge is a dental restoration that replaces one or more missing teeth by spanning an area that has no teeth.
The bridge is held firmly in place by dental implants on each side of the missing tooth or teeth
Checkups will be scheduled during the following year so your dentist can be sure your implants are working properly
Implants can cost more than other kinds of replacement teeth and might not be covered by your dental plan. But in most cases this is a one-time cost, unlike other kinds of tooth-replacement procedures–and, because of their longevity, we couldn't recommend them more!
The future of tooth restoration is here. Book your appointment at our clinic in Langford today to have your smile transformed.